Back
Zebbie Awards 2023
Lisa McGee and Colm Bairéad among winners at Zebbie Awards celebrating the best in Irish writing for stage, screen and radio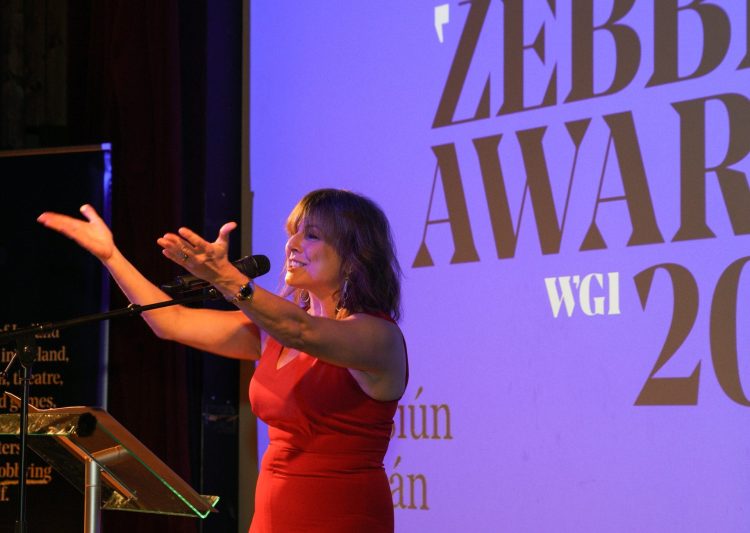 A packed house at The Sugar Club in Dublin last night (Tuesday, 17th October) saw Lisa McGee and Colm Bairéad among the winners of the 16th Writers' Guild of Ireland (WGI) Zebbie Awards, which celebrate the best of Irish writing for stage, screen and radio.
Lisa McGee received a Best Television Drama Script Zebbie for an episode of her smash hit comedy Derry Girls, beating off stiff competition from Sharon Horgan, for Bad Sisters, and Mark O'Halloran, for Conversations with Friends. * See below for full list of winners
An Cailín Ciúin, which had the distinction earlier this year of becoming the first Irish language film to be nominated for an Academy Award, secured a Zebbie for Colm Bairéad for Best Feature Film Script. It was up against the scripts of Lakeland, written by Robert Higgins & Patrick McGivney, and Aisha, written by Frank Berry.
Ciara Elizabeth Smyth won the Zebbie for Best Theatre Script for Lie Low; Joanne Ryan won Best Radio Drama Script for Eggsistentialism; Carmel Callan won Best Continuing Drama Script for Fair City (Series 33, Ep 106); Jody O'Neill won Best Animation Script for Fia's Fairies (The Little Lost Gráinneog); and Katie McNeice won Best Short Film Script for Lambing.
The Zebbie Awards, which were presented by writer and actor Tara Flynn, celebrate the best of Irish writing in Theatre, Television Drama, Continuing Drama, Short Film, Feature Film, Radio and Animation. Only WGI members can vote for the winners from the nominated scripts.
The awards are named in honour of O.Z. 'Zebby' Whitehead, a Broadway and Hollywood actor who was a great supporter of theatre and writing in Ireland after he moved to Dublin in 1963.
The WGI campaigns for rights, remuneration, more control of work and better recognition for its members, with writers typically not getting a proper share in the success of their work as programmes are more likely to be associated with the director or actors.
The WGI gratefully acknowledges the support of Zebbie Awards sponsors Comisiún na Meán and the Irish Copyright Licensing Agency (ICLA).
Jennifer Davidson, Chair of the Writers Guild of Ireland, said:
"It's a great honour for the Writers Guild of Ireland to celebrate the exceptional work that our members produce every year through our annual Zebbie Awards at The Sugar Club. Though their work is often in the spotlight, it is rare for writers themselves to be celebrated. The winners and nominees across all the categories at the 2023 Zebbie Awards reflect the quality of Irish writing for stage, screen and radio, and it is no surprise that their work resonates with audiences internationally as well as here in Ireland.
"All of the great productions we enjoy, whether they are plays, films, radio dramas or tv series, begin at a writer's desk, and the Writers' Guild of Ireland is proud to support our members in ensuring they get the credit they deserve for the brilliant scripts they produce."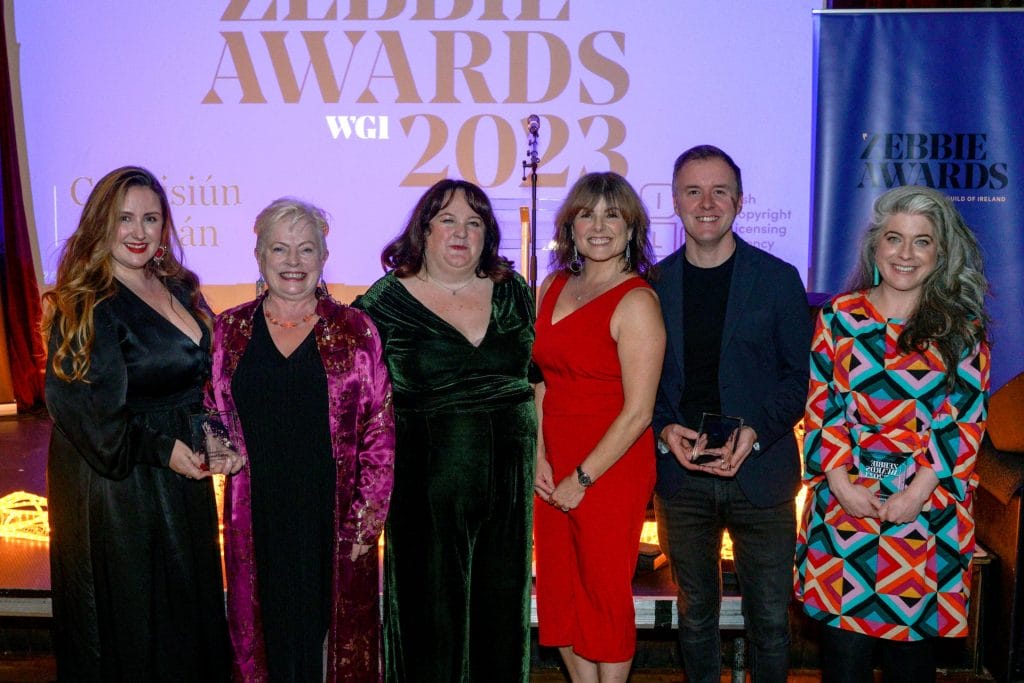 Ciara Elizabeth Smyth, Carmel Callan, Jennifer Davidson, Tara Flynn, Colm Bairéad & Joanne Ryan.
Pic by Beta Bajgart https://www.betaphotographer.com/
You can see images from the night over on our Instagram page here