Back
Minding Creative Minds campaign for the Irish screen industry
Screen Ireland has launched a new awareness campaign for the Irish screen industry, to support the organisation Minding Creative Minds and the free services it offers to those working in the arts.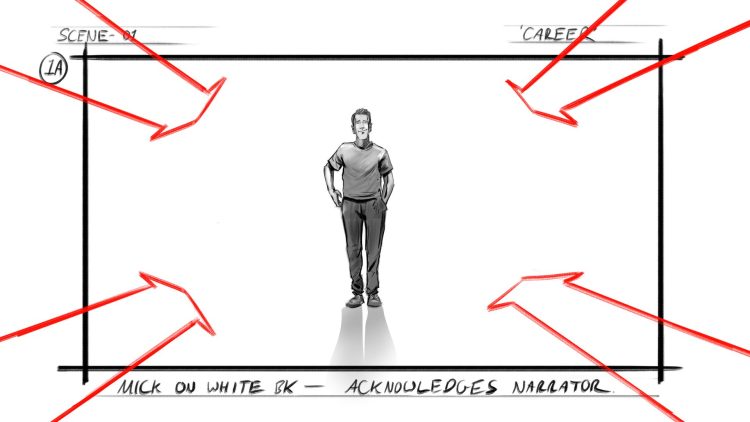 Minding Creative Minds is an organisation founded by David Reid to provide support to everyone working in the creative industries, whether as a freelancer or employee. The service provides counselling, legal advice and career guidance, confidential and free of charge to the user. Minding Creative Minds has been supported by the Department of Tourism, Culture, Arts, Gaeltacht, Sport and Media as part of the Government's Safe to Create programme.
"At Minding Creative Minds our objective is simple; for everyone in our sector to know of our existence, the services we offer and how to contact us when you need help. Minding Creative Minds is recognised in particular for our counselling support, which now offers up to twelve counselling sessions; enabling us to support more people over a longer period of time. Recently we also announced an enhancement of our service to include specialist trauma and abuse counselling care. In parallel we also offer advice support on many day-to-day matters; including legal, finance, career and much more directly; and career wise also via our quarterly mentorship programme. Our services are confidential and free to the user."
– David Reid, Founder and CEO, Minding Creative Minds
Using the universal language of the screen industry, this storyboard-illustrated series of adverts, drawn by storyboard artist Ian McCaffrey and voiced by Irish actor Colin Farrell, details every day issues experienced by screen industry workers – from an on-set runner wondering about his career options to an SFX artist dealing with mental health issues and work-related pressure.
The concept and creative was developed by Irish creative agency Boys + Girls.
Career Guidance and Advice
Prominent screen industry professionals welcomed the new campaign, across Heads of Departments and award-winning craft artists.
Graphic Designer Annie Atkins (West Side Story, The French Dispatch, The Grand Budapest Hotel) said:
"If you work in filmmaking and feel overwhelmed and overworked (I feel seen!) then finally here is some back-up: a new initiative to provide support to all screen industry workers in Ireland. This feels like an important service and hopefully people will reach out and make use of the support available."
Counselling and Mental Health Support
Tom Conroy, Production Designer (Vikings: Valhalla, Legend), said:
"Everybody's screen career (and life) will have its ups and downs. Sometimes you just need that extra bit of support…. Minding Creative Minds is a welcome and important service in a sometimes intense industry – an intensity that can be hard to describe to folk outside. I welcome its launch."
Financial and Legal Advice
Susan Bergin, Chair of Fís Éireann/Screen Ireland, said:
"We at Screen Ireland are delighted to support this campaign to raise awareness to everyone who works in the screen industry of the vital services Minding Creative Minds can provide. The organisation, which forms part of the Irish Government's Safe to Create programme, is a crucial part of ensure the development of a more inclusive and supported sector. We'd like to thank storyboard artist Ian McCaffrey for his work and Colin Farrell for providing his voice to the campaign, and to Minding Creative Minds for its ongoing work across the arts industry."
For More Information