Back
Cork International Film Festival Winners
.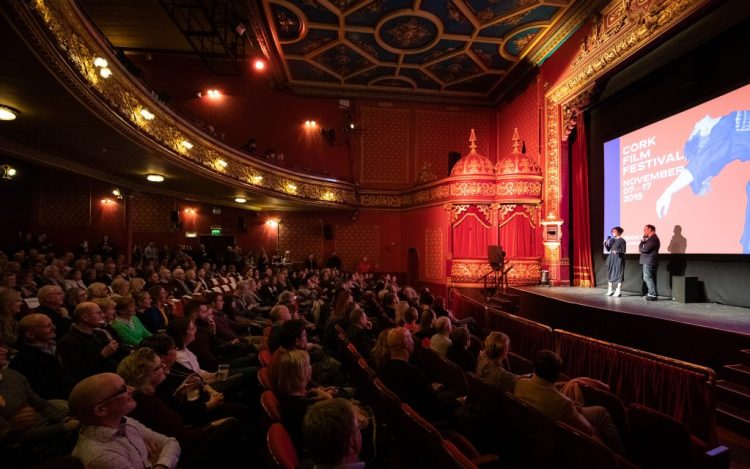 The 67th Cork International Film Festival (CIFF) wrapped up 20th November 2022, following the presentation of a packed 11-day world-class programme of film premieres and events from Thursday 10th to Sunday 20th November across Cork City, including five Gala screenings, a live Cine Concert, 1922 Commemoration programme, a Wild Child retrospective, six film and event strands and an online highlights programme.
The programme showcased over 100 features, with over 90% in Irish premiere, alongside 110 Irish and international shorts, and a series of industry and special events. The Galas included Frank Berry's Aisha to open the 67th edition at the magnificent Cork Opera House; Documentary Gala All the Beauty and the Bloodshed; Animation Gala Strange World; Family Gala Roald Dahl's Matilda the Musical (with its young Irish star Alisha Weir present to introduce the screening); and Sam Mendes' poignant celebration of cinema with Empire of Light as the Closing Gala. 
Among over 200 Irish and international films and events, the Festival hosted a beautiful cine-concert of 1902 film, A Trip to the Moon (Le Voyage dans la lune) with commissioned score from Linda Buckley and Irene Buckley (funding by the Arts Council Commissions Award and supported by the French Embassy), co-written and performed by young music students; a 50th anniversary screening of Jamaican cult classic The Harder They Come; and a range of special events and panels across its programme strands Culinary Cinema, Green Screen, Parallax Artist Moving Image, Illuminate Film & Mental Health, Guilty Pleasures, and Family & Young People. Visitors to Cork City also had the opportunity to explore more of this year's Festival's themes through the exhibition of stunning costumes from the Irish Costume Archive Project on the Cork Film Trail at four venues, sponsored by Murphy's, supported by Cork City Council, Gate Cinema, The River Lee and Metropole Hotel.
The joint Audience Award (Features) winners were announced as Aisha, directed by Frank Berry and starring Letitia Wright (Black Panther) and Josh O'Connor (The Crown) which opened the 67th edition, and Roald Dahl's Matilda the Musical, the Family Gala which screened at the Everyman to packed audiences on the final day of the Festival. The Audience Award Winner (Shorts) was announced as Lamb directed by Sinéad O'Loughlin: an ordinary day takes a sinister turn for a woman and her child when a stranger walks into their isolated rural home. Lamb is supported by Screen Ireland as part of its Focus Shorts scheme for emerging filmmakers.
CIFF Festival Director and CEO, Fiona Clark commented: "We were thrilled to welcome audiences into cinemas and venues across Cork city to experience the magic and power of cinema in a way that only film festivals can. We were also delighted to announce Lord David Puttnam as CIFF Patron this year, and to host many Irish and international filmmakers and special guests. As Ireland's leading film festival, we congratulate all the CIFF award winners for 2022, and I am particularly delighted that Aisha and Roald Dahl's Matilda the Musical were the joint Audience Award winners, two very different and unforgettable film offerings to book-end a fantastic 67th edition."
The Festival's Industry Days on 17th and 18th November hosted discussions with guests from the Irish and international film industry who shared invaluable insight into their experiences, and current trends in the sector. Included in the day-long schedules for First Take and Doc Day Live were a keynote speech by CIFF Patron, Lord David Puttnam; a session with filmmaker Prasanna Puwanarajah who discussed his film Ballywalter, which premiered at the Festival; a career interview with Frank Berry (Aisha, Michael Inside, I Used to Live Here); and 'A Conversation With' philanthropist, filmmaker and activist Abigail Disney ahead of her new feature documentary, The American Dream and Other Fairy Tales, which premiered that evening. Doc Day Online is available to watch online at corkfilmfest.org until 30th November. CIFF Industry Days are presented in partnership with Fís Éireann/Screen Ireland and supported by the Broadcasting Authority of Ireland.
In addition to Schools' screenings at the Gate Cinemas, Cork, Midleton and Mallow for Leaving and Junior Cert students, reaching 2,300 students, CIFF presented its Intinn Youth Film & Mental Health programme in person for free to TY students in Cork with a programme of short films, filmmaker Q&As and wellbeing workshops, supported by UCC and ESB Energy for Generations Fund. The free online iteration of Intinn is currently running in schools nationwide, and has supported 7,000 young people to date.
CIFF AWARDS 2022
The 67th CIFF Features Awards winners for 2022 were announced at the Closing Gala at The Everyman on Sunday 20th November.
The Gradam Spiorad na Féile / Spirit of the Festival Award (presented by The Gate Cinema) was awarded to Piaffe directed by Ann Oren with a special mention for The Worst Ones (Les Pires) directed by Lisa Akoka and Romane Gueret.
Jury's comments: "Composed of indelible images, impeccable sound design, and erotic charge – as spearheaded by Simone Bucio's quietly carnal central performance – Piaffe marks an extraordinary debut. We simply cannot wait to see what Oren does next."
Gradam Na Féile Do Scannáin Faisnéise / Award for Cinematic Documentary: Children of the Mist directed by Diem Ha Le. Jury's comments: "The protagonist's first love, the teenage rebellion, the disappointments of adulthood… Universal subjects that in this beautifully crafted first feature are depicted through characters who are complex and multilayered, like real human beings always are…"
The Cork International Film Festival Youth Jury Award went to Leonor Will Never Die directed by Martika Ramirez Escobar, with a special mention for How is Katia? (Yak Tam Katia?) directed by Christina Tynkevych.
Jury's comments: "For the winner of this year's Youth Jury award, we chose the film that we thought had the most innovative storytelling and great subversion of genre conventions. With metaverse elements and breaking the fourth wall on a whole other level, it invites you into the filmmaking process and makes you feel like a part of the film."
The 2022 CIFF Shorts Awards were announced on Thursday 17th November by CIFF Patron Lord David Puttnam. The awards for Grand Prix Irish Short, Grand Prix International Short and Grand Prix Documentary Short Award are Academy Award®-qualifying, ensuring that the winners in Cork automatically join the Oscars®' long-list.
Grand Prix award: Head Space by Aisling Byrne (with a special mention for Tar Anseo, Come Here directed by Zoe Ní Riordáin)
Grand Prix International Short: Raticide directed by João Niza
Grand Prix Documentary Short: Haulout directed by Evgenia Arbugaeva and Maxim Arbugaev (with a Special Mention for Forest Coal Pit by Siôn Marshall-Waters)
Best Direction: Feargal Ward and Adrian Duncan for Lowland (Supported by Screen Directors Guild Ireland.)
Best Cork Short: Atali'i o Le Crezent / Sons of The Crezent by Brendan Canty (with special mention for This Town Still Talks About You by Matthew McGuigan). Sponsored by Murphy's
Short Film Candidate for the European Film Awards 2023 (as Ireland's representative): Head Space by Aisling Byrne