Back
Shortlist of 10 Emerging Talents Announced for Virgin Media Discovers Short Film Competition
.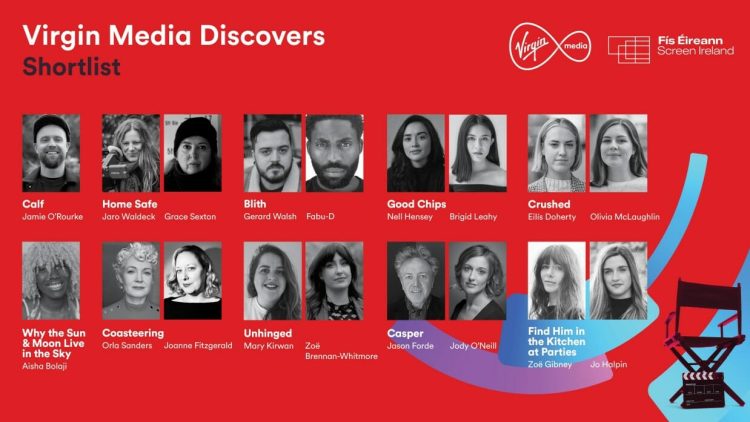 Ten new submissions have been shortlisted to take part in the 2022 Virgin Media Discovers Short Film Competition, benefiting from total prize fund of €200,000.
Each shortlisted project will receive an investment of €6,000 to develop their script with a mentor and the three finalists will be chosen and awarded €30,000 to bring their script to life on screen with the production of a 10-minute short film. The final production will be broadcast on Virgin Media Television and Virgin Media on Demand.
The 10 shortlisted projects are:
Always Find Him in the Kitchen At Parties (Drama) Writer/Director: Zoë Gibney & Producer: Jo Halpin
Fake it 'til you make it, that's what Sean keeps telling himself. But how far will he go to cover his shame?
Location: Dublin
Blith (Drama) Writer/Director: Gerard Walsh & Actor: Fabu-D
David has recently moved to Ireland to create a better life for his daughter as a paediatrician. He soon finds out it's not that simple.
Location: Dublin
Calf (Drama) Writer/Director: Jamie O'Rourke
A near fatal farm accident leaves teenager Cáit with a terrible decision to make in order to do what she must to protect her family.
Location: Tipperary
Casper (Drama) Producer: Jason Forde & Writer: Jody O'Neill
A dark film about the final week of 8-year-old autistic boy Casper's life. Utilising straight to camera address, visuals and sound inspired by the autistic experience to mesh avant-garde documentary style with narrative.
Location: Wicklow & Cork
Coasteering (Drama) Writer/Actor: Orla Sanders & Writer: Joanne Fitzgerald
Following a series of unsuccessful rounds of IVF, Sinead runs and Peter gardens; creating life can destroy you.
Location: Dublin
Crushed (Comedy/Drama) Director: Eilís Doherty & Producer: Olivia McLaughlin
A dramedy about what happens when your feelings are strong, but your vodka is stronger. Emma battles with 'the fear' when she overshares about her crush on a night out.
Location: Dublin, Donegal & Kildare
Good Chips (Drama) Writer/Director: Nell Hensey & Writer: Brigid Leahy
Dublin 1989. A family of Vietnamese immigrants struggle to keep their takeaway business afloat while their 12 year old daughter befriends one of the customers, a local Irish boy. When he disappears, she sets out to find him.
Location: Clare & Dublin
Home Safe (Neon-Noir / Thriller) Writer/Director: Jaro Waldeck & Producer: Grace Sexton
In a normal world, walking home may seem like a straight-forward thing to do. But in the world of a sketchy man, hooded and hard to read, this task proves to be quite the undertaking. What dangers can he encounter on his way home?
Location: Longford
Unhinged (Comedy) Writer: Mary Kirwan & Director: Zoë Brennan-Whitmore
After discovering the love of her life and colleague on Tinder, a self-deprecating fat millennial must find the confidence to swipe right before his leaving party, all while navigating a fatphobic workplace
Location: Wexford, West Cork & Dublin.
Why the Sun & Moon Live in the Sky (Fantasy) Writer/Director: Aisha Bolaji & Producers: Alfonso Films
Living in the mundane suburbia of Farraig-Mor, two teens plan to escape by building a spacecraft and living in the sky.
Location: Dublin, Meath & Wicklow