Back
David Gilna • A Bolt From D'Blue
.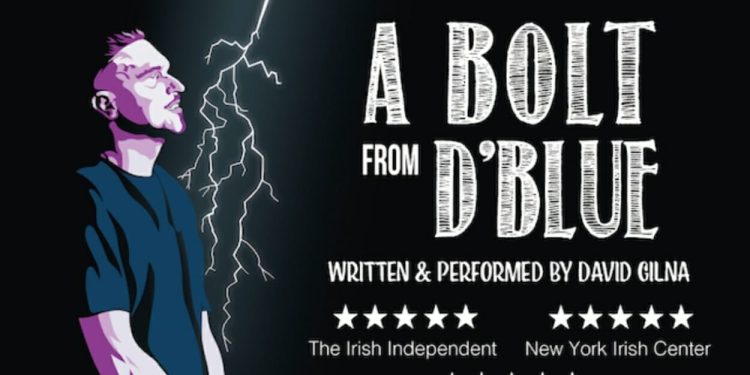 After a series of sold-out performances, the critically acclaimed play A Bolt From D'Blue, written and performed by David Gilna, is set to embark on an exhilarating new tour.
With its unique blend of electrifying storytelling, humour, and profound emotion, this one-man show has left an indelible mark on audiences across America and Ireland. The upcoming tour will see David Gilna taking the stage once again to share his transformative story while supporting the vital cause of mental health awareness.
Based on David Gilna's own life-altering near-death experience, the play delves into the heart of human resilience and the power of hope. Through a masterful blend of humour and poignant moments, Gilna navigates his personal journey of surviving a lightning strike, inviting audiences to reflect on their own lives, challenges, and the importance of cherishing each moment.
The upcoming tour dates are as follows:
Sean O'Casey Theatre – 20th SeptemberAll ticket proceeds will be donated to the charity Aware, supporting mental health awareness.
St John's Theatre, Listowel – 29th September 2023
Liverpool Irish Arts Festival – 24th October 2023
TLT – 17th November 2023
Supporting Mental Health Awareness: David Gilna, passionate about mental health awareness, has chosen to donate all ticket proceeds from the Sean O'Casey Theatre performance to the charity Aware. This powerful gesture underscores Gilna's commitment to using his creative talents to raise awareness about mental health, a cause that resonates with audiences around the world. By attending the play, audiences not only experience an unforgettable performance but also contribute to a cause that touches countless lives.
Quotes:
"David Gilna's 'A Bolt From D'Blue' is a masterclass in storytelling, combining humor and vulnerability to create an unforgettable experience." – The Irish Echo
"With each performance, David Gilna takes the audience on a journey that reminds us of the power of the human spirit." – Independent.ie
"An electrifying performance that leaves a lasting impact, 'A Bolt From D'Blue' is a must-see for anyone seeking inspiration and reflection." – The Arts Review
Tickets for the upcoming performances can be purchased through the respective venues' box offices or online platforms.
For more information about the play, tour dates, and ticketing details, please visit www.davidgilna.ie