Back
Wicklow County Council Hosts Roundtable Discussion on the Gig Economy in the Screen Sector
Demonstrating the importance of the Gig Economy in an Irish and global context.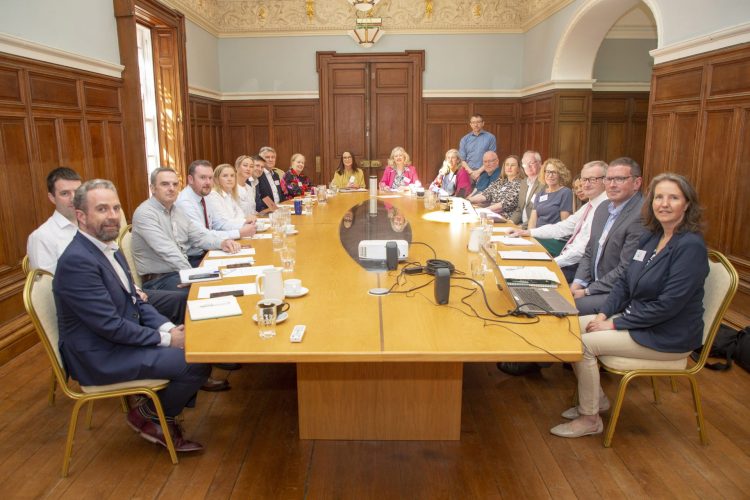 Wicklow Local Enterprise Office (LEO) recently hosted an initial roundtable meeting between a range of screen sector professionals and different agencies as well as financial institutions at Wicklow County Campus.
The objective for the event was to demonstrate the importance of the Gig Economy in an Irish and global context and to articulate the value and vibrancy of the Irish Screen Sector and the importance of 'gig' working or freelance working to the industry.
The aim was to start a conversation with financial institutions and gain advice as to how those working in the sector can better represent themselves and demonstrate their ability to pay/repay loans and/or track savings. The meeting allowed for interesting dialogue between representatives from the screen sector and financial institutions, such as the pillar banks and local credit unions.
The meeting was chaired by Emer O'Gorman, Chief Executive of Wicklow County Council, who welcomed all delegates saying: "The Screen sector is a very important economic contributor and employs predominantly freelance workers. I'm very happy to enable the start of a conversation around the need for equal access to finance solutions and housing in order to allow this sector to grow and thrive."
A gig economy nowadays represents an environment in which temporary positions are common and organisations contract with independent workers for short-term engagements. The whole idea behind the gig economy for its supporters is that individuals can sell their work on a task-to-task basis.
The gig economy represents either a promising economic model which would enable individuals to unleash their full potential and to be more creative as freelancers or it is a temporary and unsuitable ideal which needs to be regulated by competent policymakers.
Driven by technological progress and globalisation, labour market dynamics are shifting rapidly driven. At the same time, fewer people are keen to engage as a full-time employee. On top of that, more and more organisations do not issue fixed contracts anymore. The gig economy also includes (and is sometimes called) the 'on-demand,' 'peer' or 'platform' economy.
Meanwhile, surprisingly little is known about the realities of 'gig work.' Is it a liberating new form of self-employment or a new form of exploitation? There is a growing need to reflect on how society deals with these changes in a manner that protects and educates people operating in the gig economy.
A sector such as content creation predominantly employs workers on fixed contracts, and this has implications for these workers when it comes to seeking a loan or mortgage where they are judged on their regular income.
Following discussions between a number of agencies and screen professionals, a working group was formed late 2022 to discuss how this can be highlighted and remedied.
The working group includes reps from Screen Ireland, Local Enterprises Offices from Wicklow and Meath, Wicklow County Council, the Department of Social Protection, Film and TV Crew Academy East and the Mid-East Regional Skills Forum. Parties assisting the working group include representatives from Screen Guild, Writers Guild, Screen Composer Guild, Screen Producers Ireland, SIPTU and Animation Ireland.
This event aligns with the strategic objective in the Mid East Regional Enterprise Plan to develop the Mid East as a hub for the screen content creation sector.
It is intended to follow this discussion with quarterly meetings to track progress on this initiative.