Back
Galway Film Fleadh's Wild Atlantic Pitching Competition
Now open to screenwriters.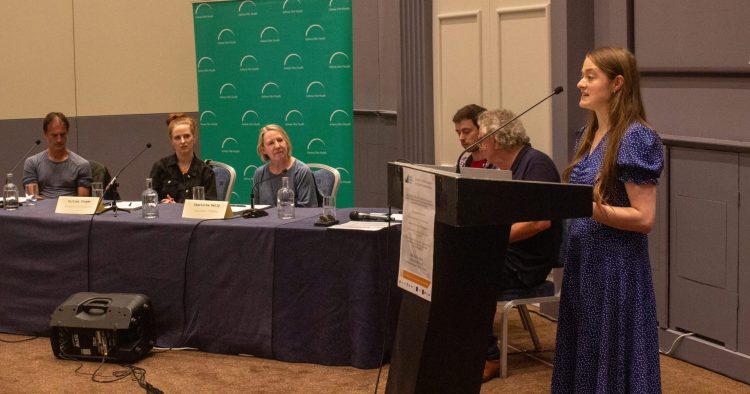 Galway Film Fleadh's Wild Atlantic Pitching Competition is now open to screenwriters.
Ten finalists will have the chance to pitch their film project to industry stakeholders and a live audience.
The Pitching Competition at the Film Fleadh has provided many screenwriters with an opportunity to get their first toehold in the industry. All that is required to enter is a 500-word written pitch (from beginning to end – no cliff-hangers!). Writers applying can be at any stage of their career. No experience is required. Any genre of feature drama, documentary or animation will be considered. Finalists will be selected to pitch their idea as an 'Elevator Pitch' of 90 seconds, in front of an audience and a panel of industry judges on the closing day of the Galway Film Fleadh. The winner will be announced at the Film Fleadh Awards Ceremony and will receive a cash prize of €3000.  
The regular deadline is Friday May 26th, 2023 at 11.59pm. G.M.T. Entry fee €40.
Miriam Allen, CEO of the Galway Film Fleadh, is delighted to welcome Wild Atlantic Pictures on board. Speaking about the new collaboration, Miriam said,
'We are extremely delighted to have Wild Atlantic Pictures sponsor our annual Pitching Competition. Their commitment to supporting talent, creating high end film and TV content for worldwide audiences is reflected in their extensive slate and many successes to date (Evil Dead Rise, Black 47, The Green Knight, Foundation). We look forward to working closely with Wild Atlantic Pictures to offer screenwriters at all stages of their career the chance to pitch their work in front of industry professionals and a live audience.'
Macdara Kelleher, CEO of Wild Atlantic Pictures, said,
"The Galway Film Fleadh has supported and helped launch the careers of some of Ireland's most talented filmmakers and we are very proud to be working with them in sponsoring this award"