Back
20th Anniversary IFTA Awards Ceremony
The Irish Film & Television Academy has announced details of the upcoming 20th Anniversary IFTA Awards Ceremony.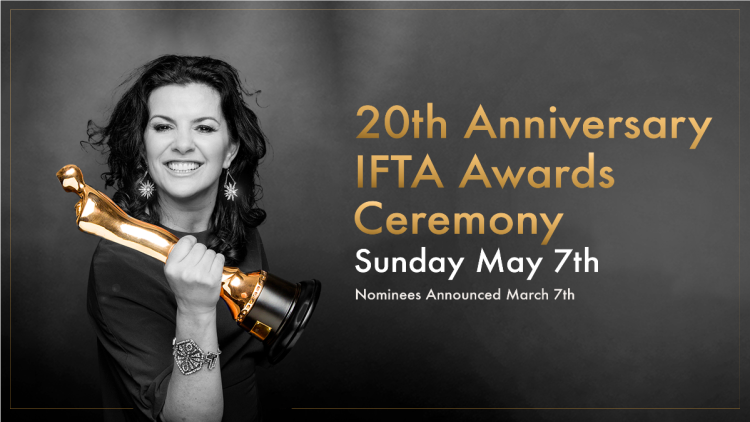 The Irish Film & Television Academy has announced details of the upcoming 20th Anniversary IFTA Awards Ceremony, which will take place on Sunday, May 7th in Dublin. IFTA Nominees will be announced at 8.30am (GMT) on Tuesday, 7th March.

This milestone 20th Anniversary Ceremony, will see the Irish Academy welcome guests from all around the world for a great gathering of industry peers in Dublin, to mark this incredible year for the Irish screen industry. International film stars, filmmakers, and Irish talent will join in the celebrations and help give due recognition at home for Irish talent and storytelling and to reward excellence in the achievements.

Last year's IFTA Best Film winner, The Quiet Girl (An Cailín Ciúin) won 7 IFTA Awards plus Rising Star, and has gone on to make history as the first Irish language film to be nominated for an Oscar in the Best International Feature category.

An all-Ireland celebration, the 20th Anniversary Awards Ceremony will be hosted at the new Dublin Royal Convention Centre, situated on Ship Street, close to Dublin Castle. Ireland's National Broadcaster, RTÉ, will broadcast the ceremony and highlights from the IFTA Red Carpet, the awards ceremony and back stage will also be distributed to over 120 news channels worldwide.

The Irish Academy is delighted to announce Deirdre O'Kane as the host of this special 20th Anniversary Awards Ceremony. IFTA is so excited to welcome guests back to a physical in-person awards ceremony, having presented the last three in a virtual setting. Deirdre is no stranger to taking the helm for the live shows, having hosted the IFTAs on 5 previous occasions. As one of Ireland's most popular actors and comedians, Deirdre will bring her masterful wit and charm to the Ceremony proceedings.
IFTA CEO Áine Moriarty said:

"What a phenomenal year for Irish screen talent in front and behind the camera, our industry has gone from strength to strength over the past 20 years. How inspiring for the next generation of home-grown talent coming through. We have so much to celebrate and we are thrilled to invite Deirdre O'Kane back to host this very special big year. She is such an incredible talent and brings great fun and craic to the proceedings, and her warm camaraderie too with international guests. We look forward to a great night of celebration".
Deirdre O'Kane said:

"What an honour to be hosting this milestone 20th Anniversary Awards, and what a golden year we're having for Irish talent across the globe. IFTA has championed the best of Ireland for the past 20 years, showcasing new talent coming through, putting the international spotlight on our home industry, our storytelling, our skill and our craft. It's so important to reward Irish talent here at home, and I'm very proud to play my part in recognising their work and presenting them with Irish Academy Awards for excellence in their achievements"

Following the IFTA Nominees announcement on Tuesday, 7th March at 8.30am (GMT), the Academy will make further announcements across Rising Star, People's choice, and the Lifetime Achievement Award recipient, international Guest Presenters, among other releases.

The Awards Ceremony on May 7th will kick-start a line-up of Academy events throughout the following months until December, to mark the Irish academy's 20th Anniversary year with a wide range of events for both the industry and the general public to enjoy.