Back
Commissioners' Briefing
A panel discussion with commissioning editors from RTÉ, TG4, BBC NI and Virgin Media chatting about all things commissioning.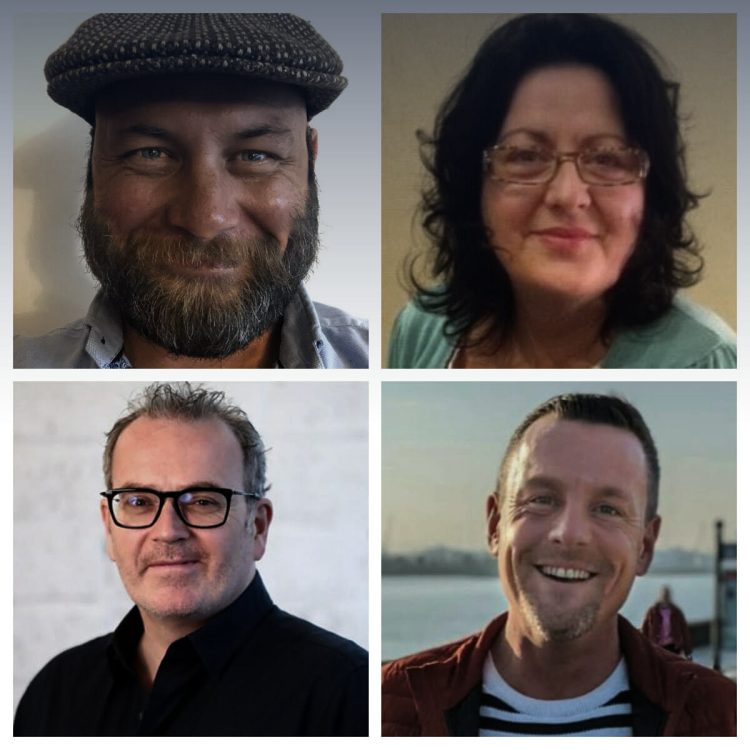 On Wednesday, 27th October, WGI Chair Jennifer Davidson moderated a panel discussion with commissioning editors from RTÉ, TG4, BBC NI and Virgin Media to chat about all things commissioning.
The discussion featured:
Sam Atwell, Development Executive, Drama, RTÉ
Deirbhile Ní Churraighín, Commissioning Editor, TG4
Eddie Doyle, Senior Head of Content Commissioning, BBC Northern Ireland
Colin Pauser-Cowman, Commissioning Lead, Virgin Media Television
The WGI gratefully acknowledges the support of the Broadcasting Authority of Ireland for this event.
Meet the Panel:
Sam Atwell – Development Executive, Drama, RTÉ
Coming from a land down under, Sam started his career as an actor and then went on to write and direct theatre and television. He had four Sydney seasons of his play, Bondi Dreaming and cut his teeth working across the acting, writing and directing departments at Seven's Home and Away for over a decade. He then made the jump to Ireland to direct Fair City for RTÉ before serving as the Series Consultant and producing the show's script and story for four years. Sam was also the Story Editor for JAM media before another stint directing Fair City. He is now the Development Executive for RTÉ Drama and is relishing the brave new world.

Deirbhile Ní Churraighín – Commissioning and Acquisitions Editor, TG4
Deirbhile is commissioning editor for drama including Ros na Rún the channel's flagship soap. Deirbhile relishes the latest TG4 challenge, along with her colleague Máire Ní Chonláin, of working with the independent sector, the Irish Film Board and the BAI in the development of Cine4. Two feature films per year, in the Irish language, will be produced, 8 in all at the end of the current scheme.
She is also currently overseeing various new series including Beidh Aonach Amárach, visiting the agricultural summer shows and the characters who make it all happen, and Ceithre Ráithe sna Déise, a year in the life of the Co. Waterford Gaeltacht, An Rinn.
Deirbhile Ní Churraighín came to TG4 from the independent sector where worked as a presenter and researcher.
Having presented various shows for the channel she moved to acquisitions in 2000, having responsibility for all acquisitions other than children's content.
During this time she developed various brands to strengthen the visibility of the acquired content, including the highly successful Fíorscéal.

Eddie Doyle – Senior Head of Content Commissioning, BBC NI
Eddie is responsible for BBC Northern Ireland's Commissioning Department. He commissions local and Network content, drives Nations-to-Network commissioning strategy, and established BBC NI's successful partnership scheme with BBC Three and Northern Ireland Screen.
Previously, he worked at RTÉ in Dublin, where he commissioned The Young Offenders and Mrs Browns Boys, and launched and ran the investigative documentary strand Prime Time Investigates.
Eddie is from Belfast. He joined BBC NI in February 2018, to run in-house production, and was appointed to his current position in September 2019. He studied Law at Trinity College Dublin, has a Masters in Journalism from Dublin City University, and Diplomas in Strategy & Innovation from the Irish Management Institute. He has worked in print journalism, TV production and commissioning across multiple genres in the UK and Ireland, and received Ireland's TV Journalist of the Year Award in 2001 for his work in Afghanistan.


Colin Pauser-Cowman – Commissioning Lead, Virgin Media Television



Colin heads up commissioning in VMTV for TV Drama and Factual. Over his 30-year career he has moved between scripted and non-scripted many times, starting his career as an AD and coordinator for a host of feature films and TV dramas then moving into factual and entertainment TV production on hundreds of hours of prime time format successes domestically and internationally. He was the MD of Paradise Pictures in Dublin for 13 years, taking the leap to freelance Executive Producer and Development Consultant in 2010 for many of Ireland's top production Companies.

Colin headed up development for both scripted and non-scripted genres in VMTV for 2 years, before launching his consultancy. He recently returned to VMTV to take up the commissioning lead role where is now working on a slate of originated drama and factual projects, along with being the channel executive producer for delivering series.